Concert of the Month: cKy
I saw CKY this past Friday and it was a most excellent concert.
I saw two of their three openers. The first one was vanilla boring metal. Only worth mentioning for completion.
The second band was Graveyard
. They were very interesting. I think they are classified as Blues Metal. It sounds ridiculous, but the music was alright! They were reminiscent of a Metal version of the Allman Brothers. Certainly worth checking out.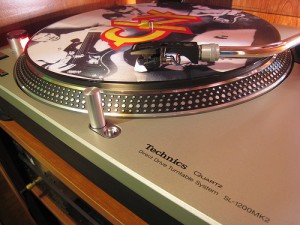 Then cKy
, the headliner, started playing. They were great performers. They didn't have any kind of setlist and almost entirely played requests, which was pretty cool.
One thing that was interesting about them is that they refuse to allow silence in their concerts, so if they aren't playing, the audience needs to be cheering. When silence did occur they would play really cheesy eighties music as punishment. That was pretty hilarious. They even came out to Billy Jean, which was pretty awesome.
There was one point at which they asked for songs to play and after a few minutes of people calling out songs, the guitarist said they could only play half of the requests. So they started playing one of the songs and at some point in the song the guitarist said, "Wait wait wait! I said half!" so then they switched songs. They did this a few songs and ended the medley with Michael Jackson's Beat It. That was pretty excellent.
The last thing worth mentioning was that the parents Margera were there and April Margera came up to sing along with the last song. That was pretty cool.
Anyway, if you are local and want to come to a concert (J-Dot) here is a link to my concert calendar.
Posted Tue, Jul 28, 2009
---
---